Life in Lime – Paintings for display in The Pettigrew, Tearooms at the entrance to Bute Park, Cardiff.
For this exhibition I will be showing seven of my sanded lime-wash paintings from 2015.
In these paintings I layered many coats of lime-wash allowing the final coat to harden and then sanded the surface with fine grade sandpaper to create this beautiful effect.
A selection on view
New Work
Life in Lime – Installation for the Little Man Coffee Company as part of Cardiff Contemporary -2016
Continuing my interests with using lime-wash as a medium to explore my concerns with memory, identity, the temporary and the transient,  I will produce a body of work, an Installation, for the 'Little Man Coffee Company' In Cardiff. This new work will accompany my video 'The Lime-washed Wall' – 24#56.
The video by Jorge Lizalde shows the preparation, mixing and application of  lime-wash on a wall in the gallery space at Cardiff Metropolitan University as part of my final exhibition for my Master of Fine Art Degree in 2012. For this exhibition, I painted a wall in the gallery 56 times to represent a coat of lime-wash for each year of my life.
This was a recreation of a memory from my childhood of the annual lime-washing of the cowsheds and buildings of the family farm near Brecon.
Each year slaked lime would be delivered to the farm and the family would pull together to carry out this very traditional and important job in the farming calendar. The walls in the cowsheds and barns would be coated with lime-wash which would act as and antiseptic and preserver of the fabric of the building against the weather and insect infestation.
To me this was a marker of the passage of time and an almost a ritualistic practice that was carried out each year to make sure that the fabric of the buildings would be preserved and the cattle would have clean cowsheds to come back into  for the winter.
LIME – Research
Making  and application of Lime-wash
Lime putty is made by burning limestone or chalk (both forms of calcium carbonate) to produce quick lime (calcium oxide), which is then 'slaked' by adding water.
Lime-wash should be applied as thinly as possible to facilitate carbonation and prevent the cracking that can occur when it's applied too thickly, it is therefore recommended that the putty is diluted with sufficient lime water (that is, water that has been saturated in lime putty) to produce a wash the consistency of milk.
As a water-based product, lime-wash is most suitable for application onto an absorbent background. Traditionally it was applied to earth walls, brick, limestone and calcareous sandstone, lime render, plaster and timber and, having found that the mildly antiseptic properties of lime would help to prevent the spread of disease, farmers regularly lime-washed calf pens between batches of calves.
Application – When making or applying lime-wash, safety goggles or glasses and gloves should always be worn. Lime is a skin irritant and  dangerous if it gets into your eyes.
Information sourced from The Calch website The Dyfed Archaeological Trust – Discover The Lime Industry of the Black Mountain and Ty Mawr Lime Brecon.
THE WORK
Lime- wash is temporary, it deteriorates with the weather and has to be applied regularly as the surface can be easily dirtied by animals in cowsheds etc.
I remember clearly that the colour of the lime-wash that we used on our farm buildings was white and Danyllan farmhouse, my family home, was always lime-washed grey.
The  farmhouses of friends, family and neighbours were lime-washed many different colours mainly earth tones, browns, yellows. My grandmother told me that people would travel round the farms selling pigments to add to Lime-wash.
Kennixton Farmhouse in St Fagans Natural History Museum, near Cardiff is  lime-washed a deep red colour, pigs blood was added to the mix.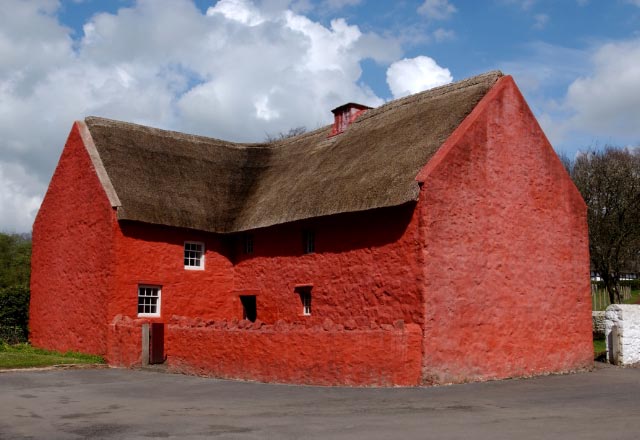 I visited St Fagans, National History Museum to see if I could find out anything about the history and practice of lime-washing and to see  what colours and methods they used there to lime-wash the houses and church on their site. They were very helpful as was  Tymawr Lime in Brecon . A company specialising in Lime based products for the building industry.
The Little Man Coffee Company – planning and making the work
The Little Man Coffee Company is a coffee shop offering welsh blended teas, coffees and a selection of light snacks. It is  situated in the centre of town and  is a privately owned business. It is  decorated in a fashionable urban style with worn wooden floors, painted bricks, tables made from old scaffolding planks, church pews and a counter front covered in reclaimed Welsh slates.
Outside are high rise buildings and across the road is an old Church converted into a trendy Restaurant/Bar called Chapel.
A coffee shop is a transient place in the city, we all pass through.
Referencing the history of landscape painting  and the colours of the landscape from my memory I will lime-wash  these colours on  to seven wooden oblong  panels echoing the shapes of the windows of the building and the tower blocks outside.
I will paint these panels with 60 coats of paint referencing the hard work involved in farming in the past and the temporary nature of this annual practice.
Work in progress…. these paintings take 12 hrs to dry between coats.
Different tones can be created by the brushstrokes as well as by how well you mix the lime-wash after the addition of the pigment.
to be continued……
I  will be exhibiting my new work  for ' Life in Lime' in the 'Little Man Coffee Company', Ivor House,  Bridge Street Cardiff  as part of the Cardiff Contemporary Visual Art Festival – 2016 complimenting Rob Smith and Charles Danby's installation –  LIMELIGHT.
Life in Lime
Jan Williams
20/10-19/11/16
Pettigrew Tea Rooms & The Little Man Coffee Company
Williams' paintings focus on memory and identity. Painted by layering tinted lime-wash on board, marks are left by the rubbing away of the lime-wash layers.Williams' choice of lime-wash is significant, a memory from her childhood of the annual lime-washing of the cowsheds and buildings on the family farm near Brecon. Historically, earth pigments, pigs blood and even soot were added to the lime-wash creating tones and colours that personalised buildings in the landscape. In referencing this annual tradition of cleansing and protecting the walls and structural timber, Jan has applied a single coating of lime for every year of her life, an act that recalls the hard labour undertaken by her family on the farm.
The method of painting/erasing of layers creates surfaces that are open to chance as well as editing and choice. In the mixing and applying of the lime the process becomes repetitious and almost ritualistic. Initially minimal, these paintings slowly reveal a complex tension between surface and depth that creates a space that allows the memories of the viewer to be revisited.
As with Rothko's Seagram Murals for the Four Seasons Restaurant, New York, the role of art was to bring stillness and spiritual contemplation to a social space. Tea Rooms and Coffee shops are places we 'take time out', they are transitional spaces that we all pass through.
Life in Lime by Jan Williams is part of Cardiff Contemporary 2016 visual art festival which is displayed at venues across the capital until 19th November. The theme for this year's festival is Communication. The exhibition compliments Rob Smith and Charles Danby's installation Limelight – illuminating the industrial landscape of lime presented in Williams Court in Trade Street.
Discover more about the artist Jan Williams visit janwilliamsart.wordpress.com
To find out more on Cardiff Contemporary visit www.cardiffcontemporary.co.uk
Supported by Goat Major Projects